Currency Switcher Widgets
With the Country Switcher widget, you can display a drop-down to allows to your customers select their country.
You can set a title for the widget and the text for other countries.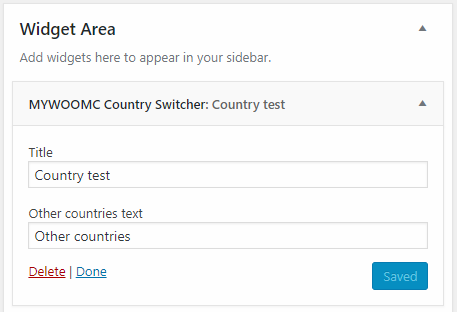 To customize widget switcher:
Go to WooCommerce → Settings → MyWoo Multi Currency →Widget Customize
You can edit the fields below and define your custom settings for Widget Switcher.
Define your switcher
You must define it from General options.  If you can use Widget Switcher, it can be Classic or Modern however you can use Bar Switcher.

Custom CSS Class
You can type your custom codes for your Classic switcher. However you can leave it as default.
Flag support
To Enable / Disable flags for the countries next to the country name.
Flag size
It's depending your wish or your site design. You can select 16, 24, 32 or 48 pixels of the flag size.
Auto Select Loader
It's give us a solution for auto-loading that if you've already changed to another country . If you're using auto loader it will disappear the go button.

Before use you must define your switcher as modern at General options.  Also it'll give you styles witch suitable for many designs.

Style 1 – Tiny size  / Style 2 – Medium size
You can select your defined switcher styles. It's suitable for the most of the sites.